Revolution
Made in the USA Performance
The Revolution is a high performance, downhill electric bike ready for anything you throw at it! As with our whole Revolution line, this bike has been designed, engineered, hand welded, and assembled in the USA! With high end components and robust electric system, this bike sets itself miles apart from the competition!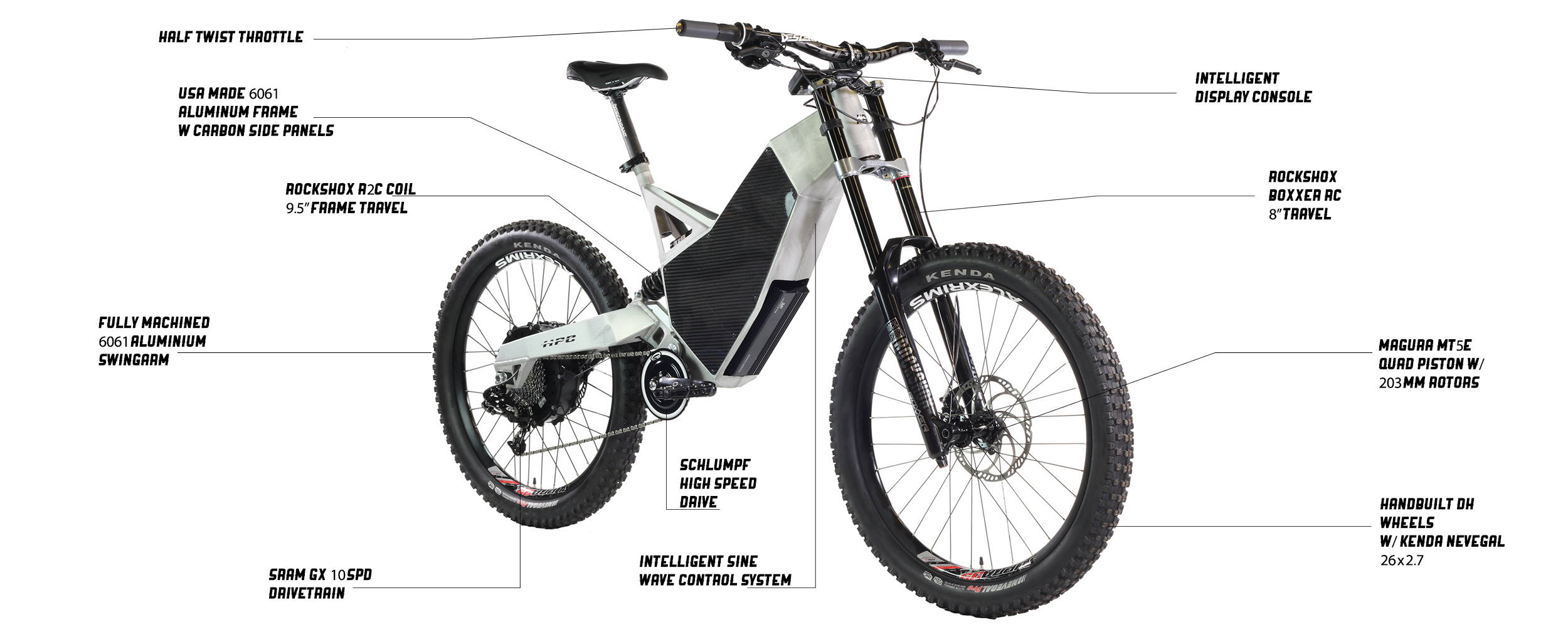 A Dream Is Turned Into Reality
The HPC Revolution is our premier product here at Hi-Power Cycles. What you see here is a product that has been over four years and five prototypes in the making. No costs were spared in making the ultimate Freeride/DH electric bike on the market.
The Revolution is hand welded and 100% built here in the United States. It is designed to be the fastest, most nimble, lightest weight and most powerful downhill electric bike available anywhere. It all started with a handbuilt 6061-T6 Aluminum frame that is hand welded one at a time by a highly esteemed industry professional with over 30 years of TIG welding experience. Our group of engineers for this project are experts in bicycle and moto geometry, as well as suspension performance. This amount of R&D, lab and field testing, and suspension tuning puts the Revolution head and shoulders above its competition in terms of overall quality, electric system performance, and ride quality.
We have partnered with the best finance companies in the U.S. to bring you the lowest rates and options for buying your dream HPC E-Bike. Fill out the quick application and see instantly what you can afford!
With the optional 6,000 Watt Thunderbolt power system, the Revolution can achieve speeds up to 55 mph! The high torque Striker motor can achieve 45 mph.
*Off road mode must be enabled
The optional 86V 2400Wh battery offers a throttle only range of up to 100 miles. The standard 1290Wh battery offers up to 50 miles range.
*Throttle only, 20mph, 160lb rider
Have the need for speed and acceleration? The Revolution, with its higher power to weight ratio, has enough torque to out climb and out accelerate the competition
*6,000W system w/ Striker Motor, 150lb rider
Only 16 cents to fill up means you can go farther and more often! Travel up to 50 miles on the standard 1290Wh battery. No need for gas or oil changes again!
*Based off 12¢ per killowat hour US average
The optional 86V 2400Wh battery offers a throttle only range of up to 100 miles. The standard 1290Wh battery offers up to 50 miles range.
*Throttle only, 20mph, 160lb rider
The space age 6061 aluminum and carbon fiber frame weigh only 13 pounds! By using high performance electronics with lightweight components, we were able to keep the weight at just 82 lbs (base configuration)
The Revolution uses the highest quality and best performing electric system in the industry. Our goal in the design was to maximize power to weight ratio for this platform to offer the most pleasurable riding experience. The result is a seamless blend of power, performance and precision that pairs perfectly to the rider in any situation!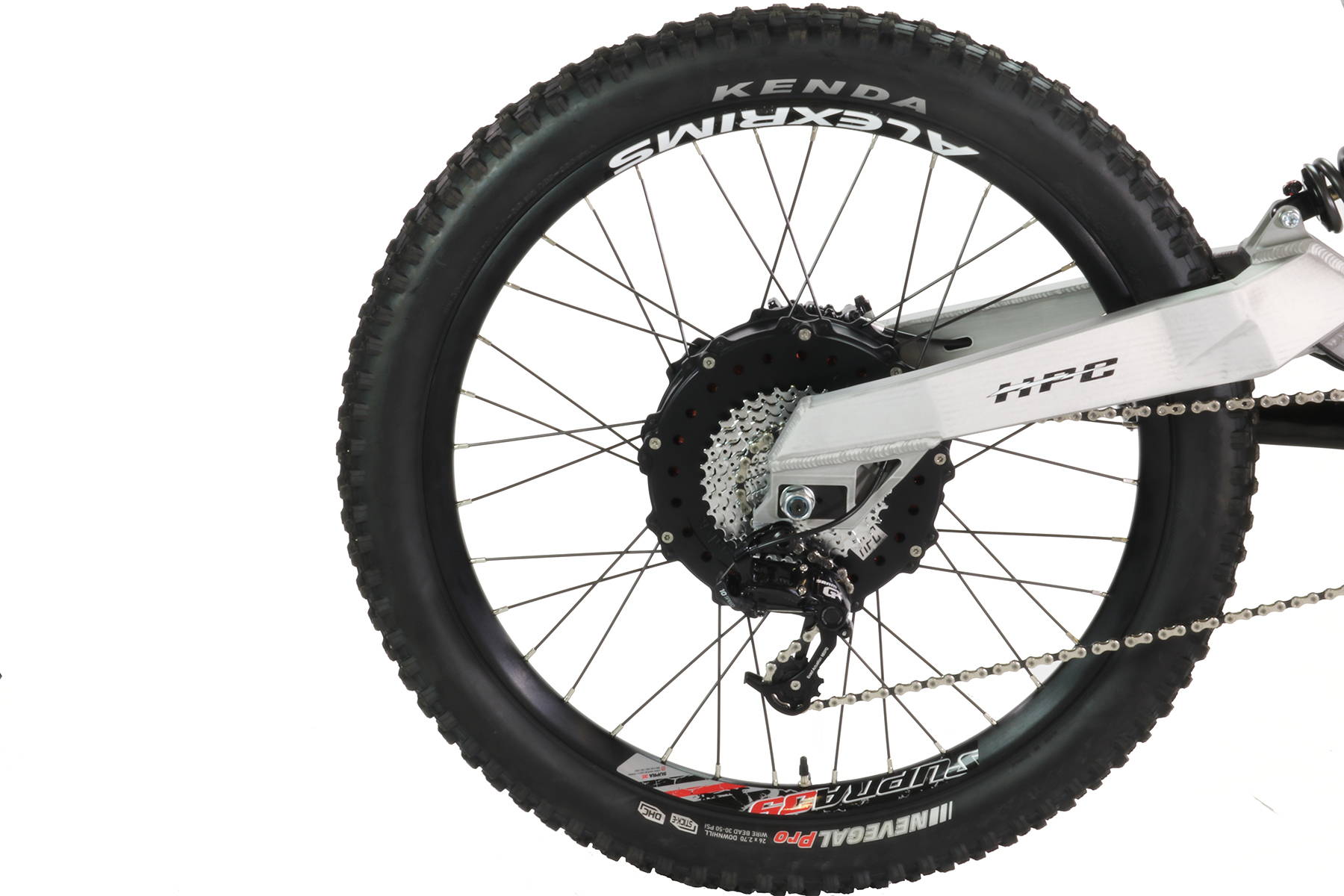 Powerful DC Brushless Hub Motor
The 5,000W (Standard) DC hub motor is both silent and maintenance free. With a proven track record and incredibly robust internals, this motor will keep turning as long as you own your Revolution. Featuring upgraded upgraded Japanese NSK bearings (the only moving parts on the motor), silver plated wires with gold plated connectors and updated motor laminations, we built this motor to be the most powerful and reliable system in a lightweight package. Passive air cooling not only allow the motor to stay cool longer but coupled with internal anti-corrosion coating, this motor will perform well in any environment.
With nearly 6.5 horsepower (hp) output and instant torque in off road mode, the Revolution is a thrilling ride! You can upgrade to the 6,000W motor for nearly 8 hp in off road mode that will give the rider even more speed, torque, and power!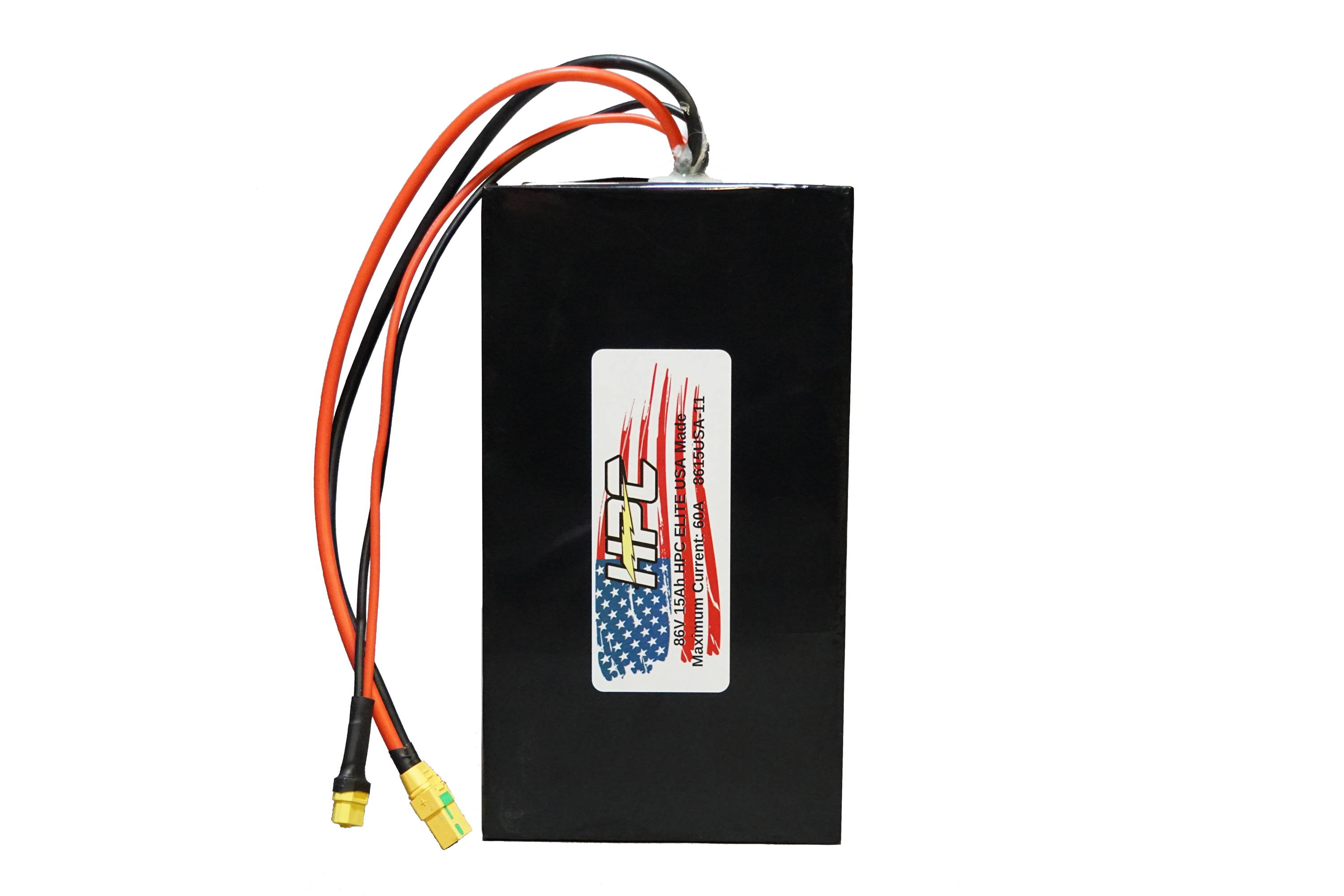 Made in USA Battery System
Any electric bike is only as good as its battery. What cells that are used (making sure they are authentic and not counterfeit like many imported packs), the assembly process, the materials used in the battery production, what connectors are used, and what battery management system is used is imperative to getting the proper performance and safety from your e-bike.
Our battery systems use only the finest authentic cells that are triple checked for consistency and performance before they are assembled. Our in house assembly process allows us to be in total control of the quality and make the most reliable and highest performing battery systems possible. All battery packs feature intelligent Battery Management systems and smart chargers to keep the battery performing at its optimal level, charge after charge. With up to 100 miles of range, only thing you need to worry about is where will go next!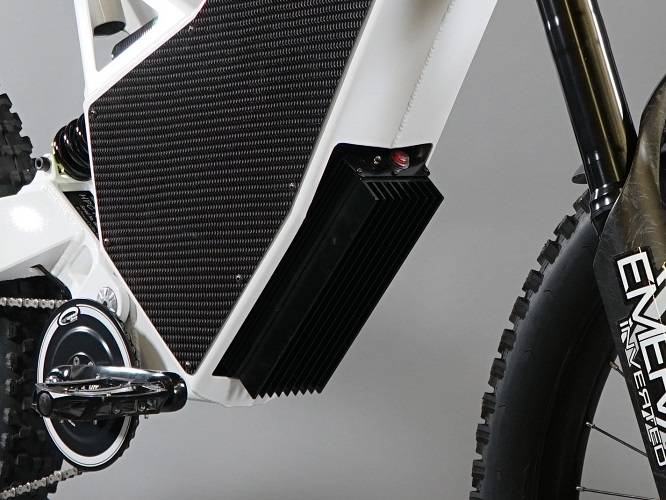 Advanced Sine Wave Control System
Featuring the newest in Sine Wave technology, our control system is both powerful and quiet. As the "brains" of the bike, the controller is constantly processing hundreds of data packets per second to seamlessly control your riding experience.
The new control system offers 10% more starting torque and higher efficiency throughout the power-band. Sine Wave technology smooths out throttle responsiveness and power delivery making the Revolution much easier to ride in both the city and off-road. Most importantly, it now makes the Revolution almost completely silent! Each model is custom programmed in house on both our dynamometer and with a VBOX to measure real world performance which ensures your bike will perform at its peak level when you receive it!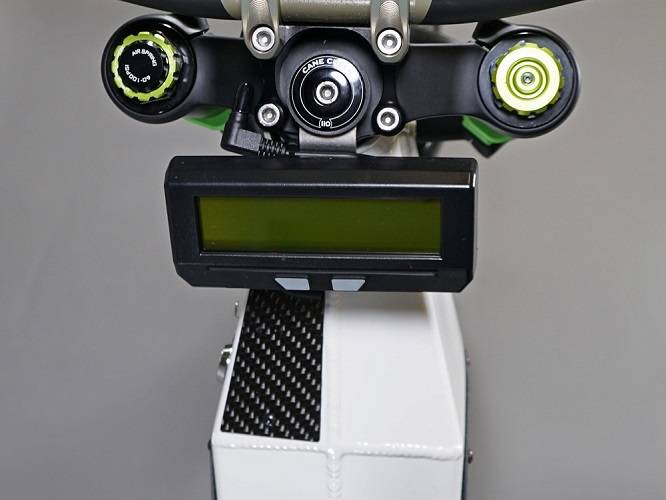 What good is all this cutting edge technology without being able to know what is going on? Our intelligent display is able to show battery level, battery voltage, battery used, speed, distance, time, average speed, top speed, power output, and amp output. This will also keep track of lifetime battery cycles, efficiency, and distance. By plugging directly into our control system, this intelligent display is able to control parameters including speed limit and amp limit to not only obey local laws but also to increase efficiency.  
Refined Frame Geometry
Through several iterations and hundreds of hours of testing, our team of engineers designed a bike that will perform as well as it looks! We keep ourselves aligned with cutting edge industry standards for suspension design, bike geometry, and component standards to make sure our frames will be comfortable and perform to our exacting specifications. The frame is the most important aspect of your bikes handling and feel so this is not an aspect to overlook since even the smallest degree change can have a huge impact!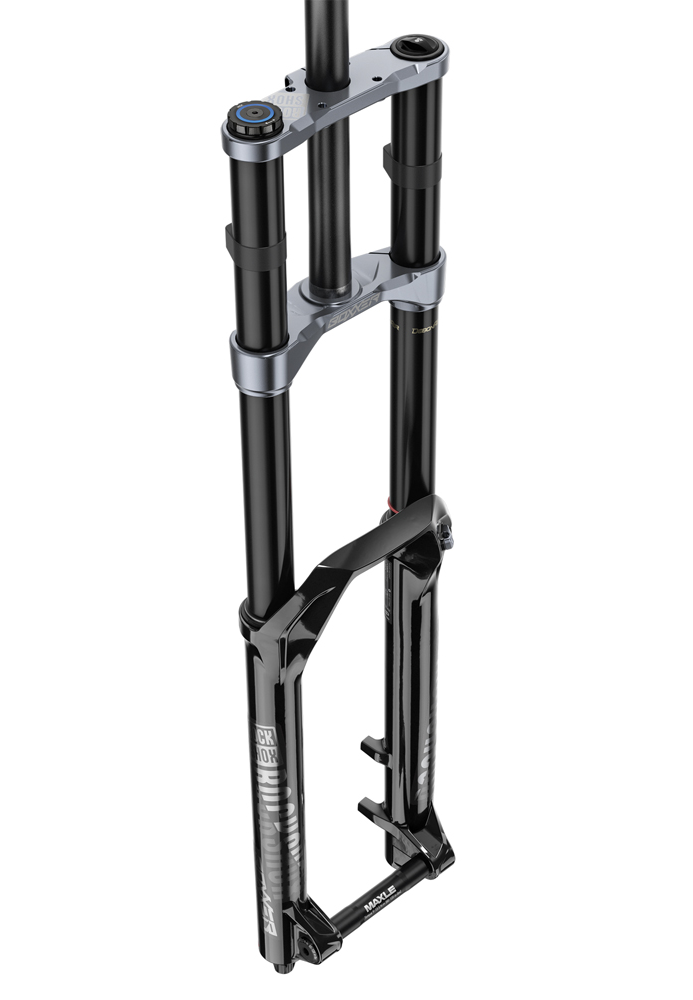 Featuring the coveted Rock Shox Boxxer RC 8" travel dual crown fork and the Rock Shox Vivid R2C coil rear shock, the Revolution rides as well as it looks. With 9.5" of progressive rate frame travel, you will feel like you are riding on cloud!
Schlumpf High Speed Drive
A bike this fast needs a way to be peddled. The German made Schlumpf High Speed turns the 34T chainring into a massive 85T equivalent with the click of a button. At speed, you will feel like superman pedaling your Revolution!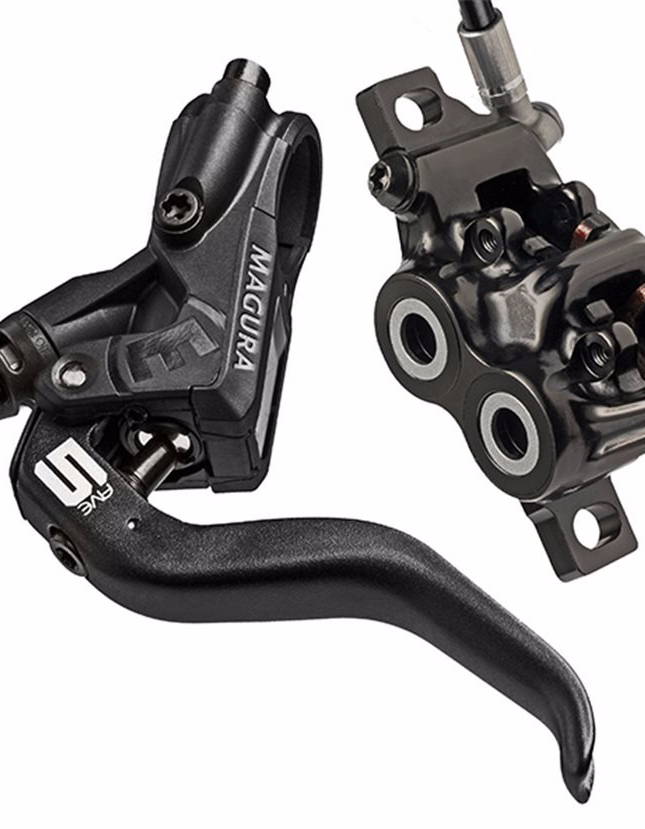 Magura MT5e Quad Piston Brakes
How to slow down from warp speed? The MT5e is the answer. Relying on experience from motorcycles, Magura made some of the most powerful quad piston brakes on the market! The are light, reliable, and feel fantastic! The integrated cutoff will cut motor power as soon as it is activated.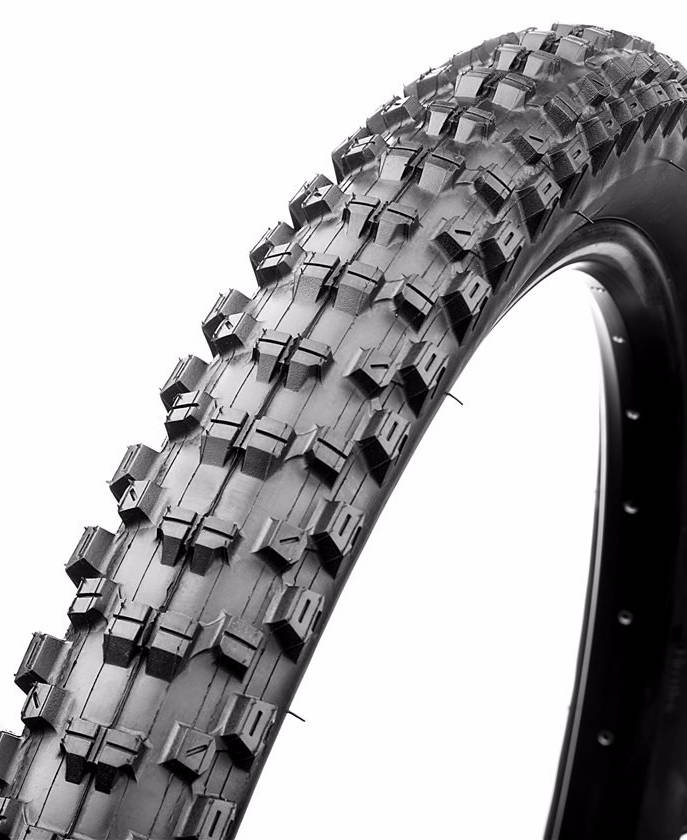 All that power needs a way to move you on any surface. Enter the Kenda Nevegal 26 x 2.7" tires. This is the ultimate mountain tire featuring dual casing for sidewall stiffness, cornering and protection. Its tall knobs are designed to penetrate and hold Revolution steady on loose or uneven terrain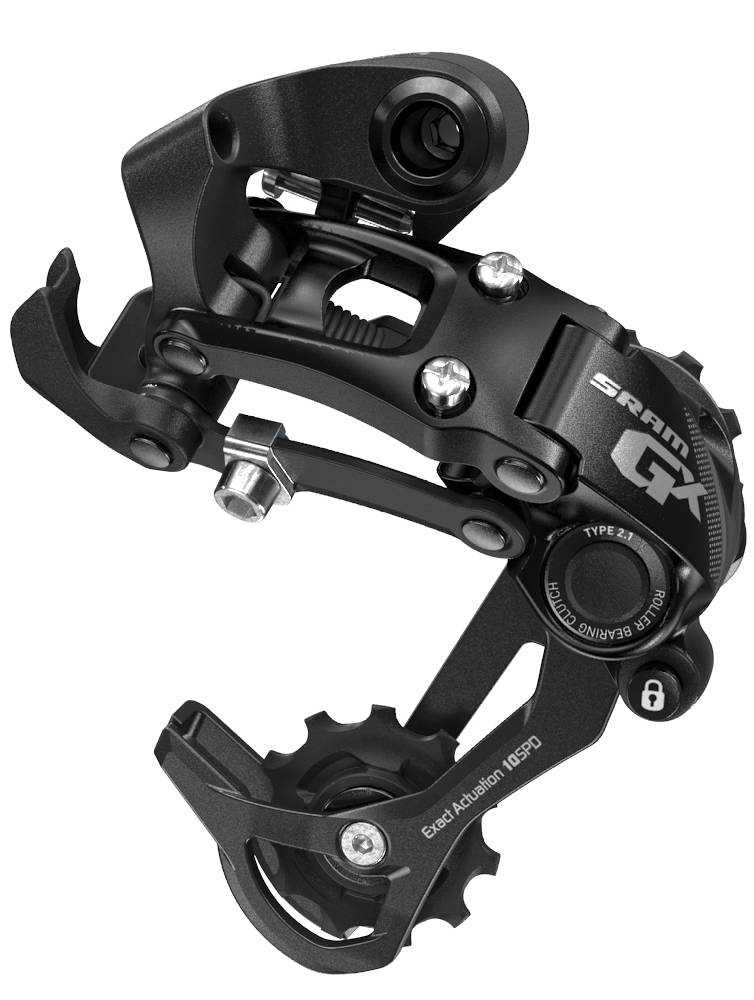 Leveraging the legendary history of SRAM shifting, the GX speed rear derailleur provides incredible shifting speed and precision. X-ACTUATION™ technology eliminates slop and shifting variation. ROLLER BEARING CLUTCH™ technology delivers maximum drivetrain stability—even through the most punishing terrain.
A fast e-bike requires the most robust wheelset for performance and safety. All of our wheel builds start by cutting each individual Phil Wood spoke in house and then hand lacing the wheel to our custom 3d drilled rims. By using the highest quality spokes, nipples, hubs, and rims, we ensure the best wheel you can get!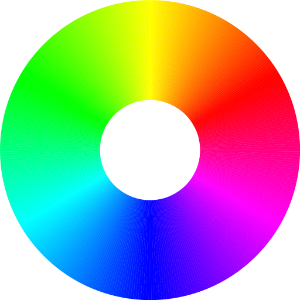 Color Option: We offer 4 standard colors (see below). If you want something custom, we offer the ability to choose ANY color you want for your Revolution as well as the ability to powder coat your rims to match.  
Choose either Royal Red, Gloss White, Matte Black, or Raw (w/ clear-coat)
Choose ANY color of your choice (single stage, two stage and candy colors). Pick your color here: Prismatic Powders 
Choose ANY color of your choice for your frame + your rims (single stage, two stage and candy colors). Pick your color here: Prismatic Powders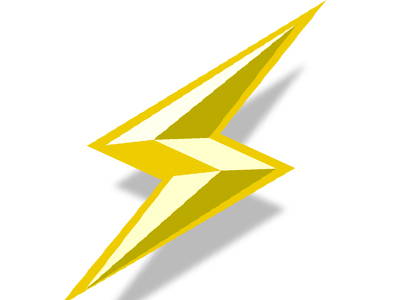 Power Level: The base Revolution comes with the formidable 5000W power system. If you take it to the next level, the 6000W offers even more power, speed, and torque. Just make sure you hold on tight!
The 5000W system is a great choice for those looking a power system that can do it all with decent speed and torque.
The 6000W system features a beefed up motor, upgraded controller, and upgraded battery system. This system is suited for someone looking for more hill climbing power and more overall speed.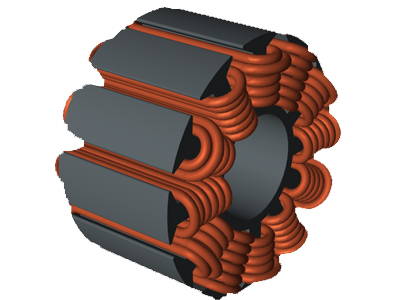 Motor: We offer the choice of either the Thunderbolt (speed motor) or the Striker (high torque motor). Choose the one that suits your riding style for the best experience
The Speed (S) motor is a good blend of speed/acceleration/torque for overall riding. Perfect for light to moderate trails and moderate hills. Speed: 50/55mph (5000W/6000W)
The Torque (T) motor is for those who want more acceleration/torque in exchange for a little top speed. This motor is more efficient than the S motor in most circumstances. Perfect for steeper hills and trails. Speed: 42/44mph (5000W/6000W)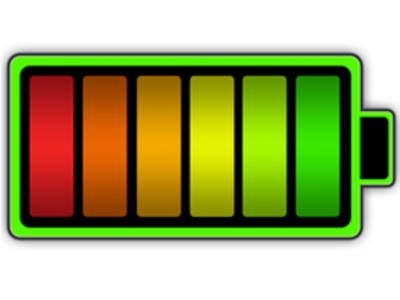 Battery: Choose the battery that suits your riding needs. If you are riding hills or off-road, your range will be less than quoted. Quoted range is in ideal conditions (flat ground, 170lb rider, paved road, 20mph, throttle only)
86V, 1290Wh, 55 mile range. Perfect for those who do not require a lot of range
86V, 1800Wh, 75 mile range, +1% extra power. Great blend of size and capacity.
86V, 2400Wh, 100+ mile range, +2% extra power. Maximum range capacity in a compact size for ultimate e-bike experience!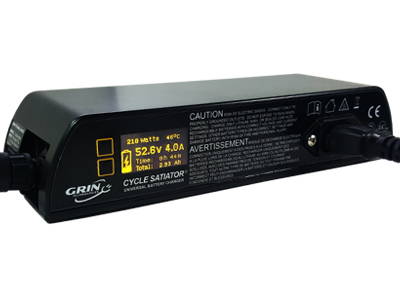 Charger: Choose the charger that suits your needs. The more powerful charger will charge your battery faster for less down time. For those wanting to keep their battery system to stay healthy longest, we recommend the Satiator upgrade.
Power: 2.5A. Charge time: ~6 hours (from 5% to 100%)
Power: 4A. Charge time: ~4 hours (from 5% to 100%). Most popular upgrade
Power: 6A. Charge time: ~2.5 hours (from 5% to 100%). Ideal for those who want the shortest charge time.
Power: 5A. Charge time: ~3 hours (from 5% to 100%). The Satiator is a remarkable charger that will make your battery stay healthy for longer. With very specific charging algorithms and the ability to float charge, your battery will stay in balance longer. This will increase your overall range and longevity of the pack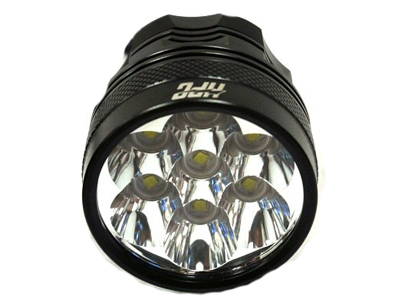 Lighting System: If you will be riding your bike at dark and if safety is the utmost importance, we highly recommend a quality lightning system. All of our headlights feature 3 power modes (low, medium, high) as well as a strobe function. The included Thunderbolt rear light is extremely bright to be sure you are seen at night! You will not find a brighter light!
Great choice for commuters or those occasionally riding at night. This is a super compact headlight that has surprising light output
Great choice for commuters who want ultimate visibility or those ride high speed at night (on or off road). This headlight has the highest light output and longest battery life.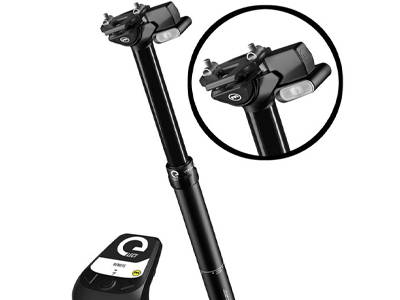 Dropper: We offer a Magura Veyron wireless dropper option. This is great to adjust seating position on the fly to keep you in the perfect condition on climbs/descents.
No cables, no laborious cable routing. The VYRON eLECT Seatpost with wireless remote control is a technical trailblazer. Get the perfect seating position anytime, anywhere!
Thanks!
This field is required
This field is required
This field is required